Interview with an undergraduate student at Oxford Brookes University
EI: hi! Tell us a little about yourself. How is it that you were in England?
My name is Elizabeth Muratova, I'm 21 years old. I was born in Belarus, but for many years lived in St. Petersburg with his family. While training in the Russian school I started to think about my future, what I really want to be and what I would like to work. Since I studied in an English school, I wanted that my future profession was connected with the English language. My parents saw an advertisement for the international College, which was in the UK. I was sent to language courses in Oxford and I realized that I really want to continue my education in there, because there is special atmosphere for studying and living. Though it was a responsible step not only for me but for my parents, because I was only seventeen years old.
EI: In what year were you admitted to Oxford Brookes University? Why Oxford Brookes? What attracted you to this University?
Your experience with Oxford Brookes , I began in 2014 when enrolled on a Foundation course. For a long time I chose the city and the University. For me was important not only ranking University, but the atmosphere here in the city where it is located. And now I do not regret about your choice. Many of my friends who left for England terribly at Oxford and I regret not having stayed. Also played a role, the fact that Brookes quickly began to grow and develop. Recently they built a huge and modernized the library, and still the University continues its transformation. I really like that there is made everything for the students, so each student was comfort and convenient to fulfill your potential and to gain knowledge that can not be said about universities in Russia. The approach of teachers motivates students and makes their learning interesting and useful for graduate life.
EI: How did you enter University? Tell us about your experience.
My way to applying for my course was long enough. First I did A-level program in international College, but I didn't have enough points to Brookes. Since this University was my First choice, I didn't want to go anywhere else. I decided to start the Foundation programme in the University. And it was a good decision.
EI: please Tell us about your impression of the preparatory Foundation program.
For myself, I found the Foundation very useful. I believe that it is useful not only for international students but for the British themselves. First during this program, you're already fully immersed in the University life, learn all the details on the use of student resources such as library and student portal. Secondly, by the end of the course the student will know how to arrange and structure the work that is required all the time training at Oxford Brookes. If the student does not know how draws work, the grade will be reduced. During the Foundation course you are introduced by the University and know its culture. Also in the first year I already knew where to be what the office, already knew some of the teachers. Many students in the first year feel the confusion and stress for their whole University system is brand new, and it takes some time to join and get used to everything. Since I did a Foundation course, I didn't need to waste your time on it. I'm already well-oriented in the University, knew how everything works. Accordingly, from the beginning of the course I am calm could begin to learn without stress and addiction, which took some extra time. After my own experience I can confidently recommend this course for all applicants.
EI: does Oxford Brookes scholarships for international students? Do you know of students that have received scholarships?
As far as I know in any of the English universities, scholarships are not provided. But, each student has the chance to receive a cash reward for certain work and creativity. Each year the University invites students to participate in different programs. Grant money can reach up to different sizes. For example, I recently received an offer to participate in the program where the scholarship ranged from $5000- $25000.
EI: You are on the combined program BA Business Management + International Relations, right? What are your impressions of the program? Do you have a favorite subject, teacher?
I'm glad I took the combined program. firstly it expands the choice of my future employment. Secondly it helps to diversify the training. In fact, I used to think that the business as a subject I like the most, and international relations have advised parents to me. first, International relations as a subject was absolutely something new for me , I didn't understand very much in the first year and was afraid that just will not pull. But the second year became clearer and more logical. Now this was very interesting for me. I can't particularly highlight the subject or the teacher, because each piece must engage the learner to be interested in. I like the combination of my subjects, and teachers who are always ready to help, explain or answer all your questions. Very nice to study in that place where every teacher knows that all students have potential and that every student can get the highest score. The main thing is to set yourself a goal, and the teachers are always ready to come to your rescue.
EI: Who is learning with you in your program? Were you able to have close friends, and who they are – Russian-speaking foreigners, the British? With whom it is easier to find a common language?
My program is very balanced. Enough foreigners, British and English-speaking students. It was scary at first met, was the fear that not enough knowledge of the language because all the students he was at a high level. But in the end, when to overcome your barrier, you know that basically no one will blame you for your mistakes, because they do everything. I know quite a lot. A lot of Russian, how much is a first people with whom you're close start dealing with the first days of your stay abroad. Then, when you start to get used to, begin to communicate with foreigners, because they understand that English is not their native language and make mistakes in conversation is not so scary. So, over time, begin to communicate with the British. The University itself also helps to start Dating. When you need to do the task in groups like it or not, but to communicate with students have. It is possible and helps to overcome the barrier in communication. Don't know why, but at the moment I am very much in touch with the British. It helps to improve English, to understand their culture.
EI: What do you do in your free time at University?.
To be honest I didn't get into any community in the University. I just didn't know how to do it. But this year, we gathered enough people to create Russian - speakers society. I mainly come to study in the University. There is the most favorable environment for learning. There are computers, printer, library, there is almost always space. It is very convenient to deal with not only one, but groups. You can book a special room for groups. But I prefer to do in silence. For people like me there are special places where not to make noise.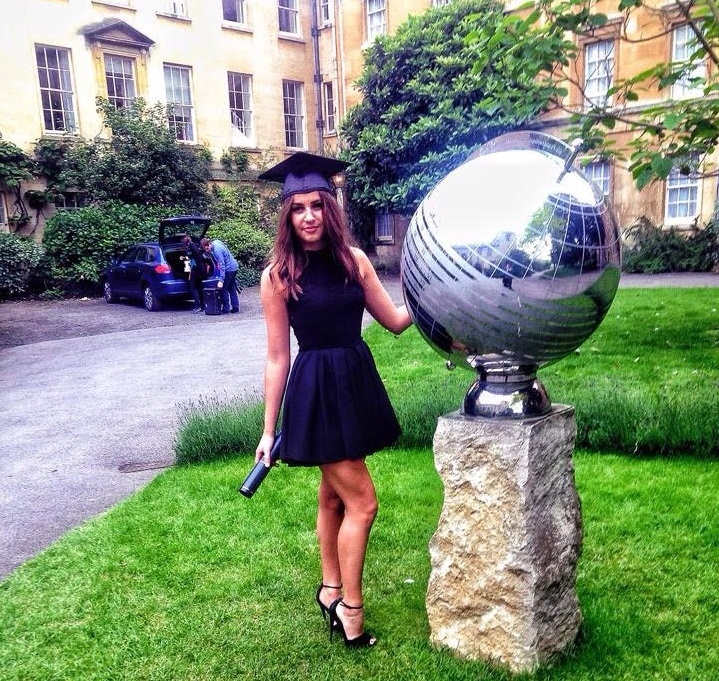 Photo of Elizabeth on the day of receipt of the diploma in Oxford Brooks
EI: Tell us a little bit about life in Oxford. What are the pros and cons you see for yourself?

Perhaps I'll start with the pros. Oxford is very well organised transport system. Buses always come second in the second, but sometimes it's even bad. At the expense of transport, there are several special University buses, which travel free for students. Oxford itself is very beautiful city. There lives a huge number of students. A large number of scenic spots. A little frustrating that the shops close early. This town has some sort of special atmosphere. I was in different cities of England, and in my opinion Oxford are the most comfortable and beautiful. For those who like sport, these people exactly like Oxford Brookes. The University has 2 sports hall hosts many sports activities. There are a huge number of sports clubs. Competitions between universities. In General all athletes court. I can only say that I love this city and I am always pleased to return there.
EI: What are your plans after graduation? Where would you like to live and work in the future – in England, in Russia or somewhere else?
I'm afraid to think about it, because during the student life it is not constant. I am a very versatile person. I always try something new, because until I found myself 100% and many students will understand me. But I'm sure that in Russia I don't really want to go back. I hope that my future plans will be realized and I will be able to find a good job abroad.
EI: Thank you so much for this interview! What would you like to say in closing to our readers?
I want to say that you should never be afraid to take new steps, mostly because it always only leads to a better. I know myself that it is not easy to go to another country, leaving his whole life in Russia. But we must not forget that there there's another life that much more interesting and exciting than here.Oxford Brookes -it's a great University that gives you the opportunity to fulfil their potential and prepare for future life. For many I think is important is not only the ranking of the University, but also the place where you have a life to emerge as a personality, and Oxford is a wonderful place for future UPS and downs. I wish you all good luck and see you in Oxford Brookes.