A review of scholarship programs Global education about studying at University of York
EI: hi! Tell us a little about yourself (Where are you from? How old are you?). How is it that you were in the UK? When you decided to study abroad and what/who motivated you?
Hi! My name is Valeria, I'm from Moscow. I'm 21 years old. Before receiving the bachelor's degree of the Moscow state Institute of international relations, studying at the fourth course, I thought about training in a magistracy abroad, because I wanted to expand my horizons, to get a completely new life and a learning experience. The UK I chose because almost all his life engaged in the English language and in Institute I studied some aspects of their profession such as public relations, journalism, advertising and branding in English. And having interest in learning another language and having skills and knowledge that I gave to our teachers, I decided to take it to the country. I must admit that partly I was attracted by the prestige and high quality of English education.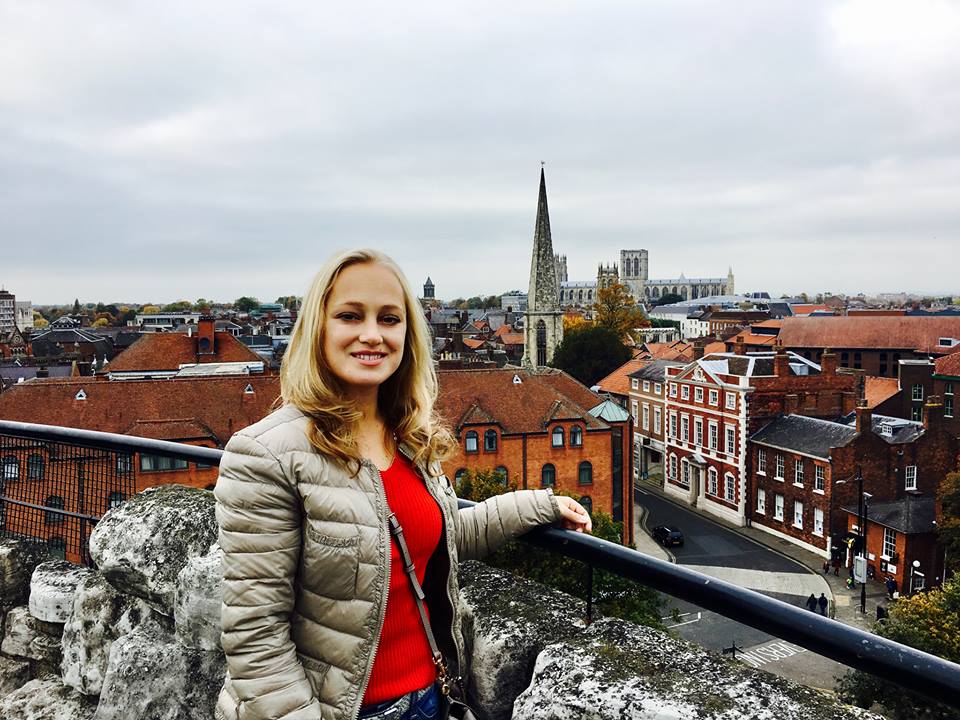 EI: In what year were you enrolled at the University of York? How did you know about this University and what are the criteria chose the University of York?
At the University of York I received in 2016. About this University, I learned from the Internet. I stopped it because I found out that the faculty of Social policy and Social work, York University is in the top three rankings in this area of the UK Universities, and the program that I chose, in my opinion, perfectly complemented and deepened what I studied at the faculty of International Journalism. It should be noted that we had aspects not only of journalism but also of political science, and sociology, and diplomatic relations. A description of the modules In York me even more convinced that obtained on the Department of social policy knowledge will help me to realize myself in career and profession.
Also a big influence on my decision was the opinion of my friends about the whole city who have been in York as tourists, and told that this city is like a doll, fake, and they liked its stunning architecture that has preserved the medieval spirit, and a relaxed atmosphere.
EI: How did you enter University? Tell us about your experience. Were there any difficulties when applying to University? If so, tell us about it in more detail.
Documents to the University I applied long before the arrival, in September 2016. The only difficulty I faced is the large amount of paperwork.

I had to have the IELTS certificate with scores on the English proficiency, two motivation letters from professors of the University, then a motivational letter from yourself, telling about yourself in General, about why I chose their faculty and about the future plans.
After receiving conditional offer from the University of York, received a student book and a diploma with your grades, I sent them copies in York (what is required for final admission), and in June received an unconditional offer, which meant that I am now officially a graduate student in York.
As for the Visa, then there had to be a little more complicated, because the documents on her was just huge and had to spend a lot of time on his fees.
EI: Tell us more about the experience of the grant programme of the Global Education? When you filed for the grant? Was it difficult to get a grant? Do you communicate with representatives of the programs and other finalists?

About the program Global Education , I accidentally learned from the social Network Facebook and decided to participate in it, because the risk – a noble cause. The grant I applied in December 2015. To me it was easy, because I had the whole set of required documents and, of course, the motivation of studying abroad and the prospects and possibilities of employment upon return that I was given this program.

Honestly, I talked quite a bit with the finalists, but we hardly keep in touch, because it so happened that we all opted for different countries and areas.

EI: what program are you studying? What are your impressions of the program?
I'm studying social policy. Impressions of the program are very positive, because the material that we study is very interesting and is aimed at the analysis of how theoretical knowledge can be applied in practice in real life. Most of all I liked the fact that we are studying the experience of different countries around the world in the field of social policies and analyze the social reforms and changes in social policy in the context of globalization.

EI: What do you do in your free time at University? Are you in any student clubs, walking in the gym? Tell us a little about it.

In my free time I go to the gym, do fitness, swim in the pool, play tennis. Also, because the student Association have the opportunity to attend a variety of excursions that explore the country and travel to different cities of England. I also sometimes like to relax, walking around the city.

EI: Tell us a little bit about the city. What are the pros and cons you see for yourself? Easy to find housing? Whether you are looking for a part-time job? What do you think about the night life in York?
The city from the first minute attracted by its fabulous architecture and very cosy atmosphere. I'm extremely proud to be in it and enjoy its quiet pace of life. A huge plus is that this city is absolutely safe to walk at any time of the day. In York a huge number of pubs where you can spend time, make new friends and just relax.

And what stands out.. York.. so it's animals. Geese and ducks, at least on campus can be found at every step. Of the minuses can be called only that the shops, cafes and restaurants in town close very early. Housing was easy to find, I was immediately offered a room on campus, and to her I'm happy. Of course, it took a little time to adjust to life on campus, but I think that faced with this all the students. A part-time job I was not looking for. Nightlife in York is significantly different from the nightlife in Moscow (at least on the scale), but in York, too, can be great fun in the pubs and clubs where the atmosphere is more intimate (compared to the Moscow cafes and clubs).
EI: do you have a company that you will work at the end of the program?
Before I choose, but the choice is in a very active mode😊

EI: Thank you so much for this interview! What would you like to say in closing to our readers?
If you are not afraid of bold experiments and want to combine business with pleasure, namely, to receive education abroad and to discover a new country, the Global Education is the perfect chance to implement this! To all readers I would also like to wish every success and good luck!