A student from Kazakhstan's Bolashak and education at University of Bristol
Kundyz Mukatayeva, stipendiat "Bolashak" shared their learning experience at the University of Bristol for the program", MEd in Educational Leadership, Policy and Development (ELPD)":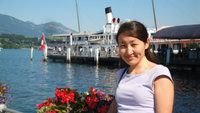 I graduated from Pavlodar state University named after S. Toraigyrov in the specialty "Philology" in 2005. After graduation, I worked for four years at the University in the position of chief specialist of Department of registration and organization of educational process, has not yet won in 2009 the international scholarship "Bolashak" for training in the master's program in the United Kingdom.
The University of Bristol is one of the leading British universities. Training in this University was my biggest dream, and became for me a real honour considering the excellent reputation of the University. In addition, my decision to study at Bristol was based on my interests. The University of Bristol was the only UK University offering a programme "MEd in Education Leadership, Policy and Development". The combination of the modules of this program directly corresponds to my interests. The desire of the Faculty of Education (Graduate School of Education) to provide a high quality education is due to its unique specialty is the preparation of graduates to work in leading universities of the world. In addition, the University of Bristol has something to offer to foreign students. All this attracted me and I wanted to be a part of this educational system and acquire skills that I could put into practice immediately after graduation.
>> Learn more about the program MSc Education
During training in this program I especially remember a group project in the course "Introduction to Educational Inquiry". This was my first experience of joint work on a common theme with students from different countries. We managed to make a great presentation not only for his group but also for students of other specializations, and we got very good feedback from teachers. This was our first achievement, and the work on the project helped me to get acquainted with classmates and find friends who have studied related subjects.
Bristol I fell in love at first sight. It is a cosmopolitan city where everyone can find something to their liking. Most in Bristol I liked the Clifton suspension bridge, which offers a magnificent view of the city, Bay and Bristol international balloon festival — a spectacle that is impossible to put down. I would advise current students to study hard and to enjoy time spent in the company of interesting and passionate people.
Thanks to the master's program "MEd" I managed not only to get acquainted with theoretical bases of educational management as a science, but also to understand how administrative and other approaches are applied in practice and how they can be adapted for use in Kazakhstan. In addition, I can confidently say that the training in Bristol has influenced not only my career but also my life in General. I became more independent and confident, in addition, the training has contributed to my personal development. My biggest achievement was a masters of education with honors, did not expect even myself.
>> Learn more about the program MSc Education
I want to emphasize the support of Bridgette Blackmore, senior administrator admissions to graduate programs and graduate studies, Faculty of Education. She participated in my study from time of enrollment until graduation. It perfectly applies to all students and provides special support to foreigners. Another person, who actively supported me during training, was my supervisor Elizabeth Lazarus. She helped me believe in myself and my abilities. It was for me the person, with whom you can discuss all the difficulties and problems in addition, Elizabeth gave me many useful tips for training. I am very grateful to Bridget and Elizabeth.
In conclusion, I would like to say that studying at one of the leading universities of the United Kingdom was not easy. However, the University of Bristol helped me to discover new ideas and points of view, and I am very proud of my title of the graduates of this University. Today I head the Center of the academic mobility of Pavlodar state University named after S. Toraigyrov and plan to continue its work in education and get a PhD. I'm sure training at the University of Bristol will help me to participate in the development of the education system of Kazakhstan.
* MSc Educatiion Bristol University is also approved by the Russian program of Global Education.
>> Learn more about the University of Bristol
>> All programs at the University of Bristol
Ask a question to the University
* Source of feedback - the official website of the University of Bristol