Students of the Dutch University Inholland has developed a drone for the fire service
The students of Aeronautical Engineering of a Dutch University , Inholland in Delft has developed a drone for the fire Service in the Netherlands in the framework of the project "Vision Systems". According to Marco, one of the participants of the project, a drone with cable management it is possible to find pockets of fire in the building faster and safer than usual.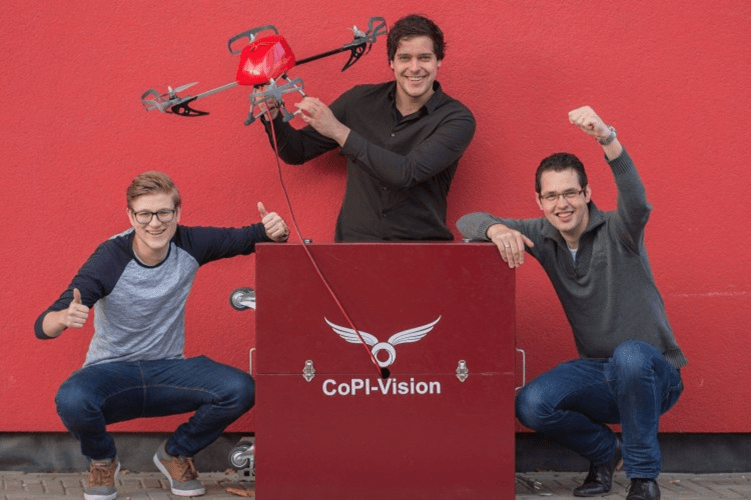 Photo project students from the official website of the University Inholland (www.inholland.nl)
Students initially presented a prototype of the device to several companies and emergency services, and then made the overall business plan based on feedback. "The drone became interested in the fire service in the region of the Hague. When firefighters enter a burning building, they don't know exactly where they are in danger. Thanks to our device they had an extra pair of eyes" - said the student.
>> View all programs of the University Inholland

The students found that the use of wireless drones due to the risk and offered his solution to the problem. "The standard drones, there is one drawback — in case of malfunction, they become a threat to others. If a broken drone falls on a person, the consequences can be very serious." Students with a cable attached to the drone control unit with built-in cable mechanism. Thanks to an external power source, the drone does not depend on battery power and is able to remain at altitude to 50 meters as long as necessary.
In the process of creating the device, the developers were faced with various difficulties. Initially, the drone could not get off the ground, and the students appealed for help to the specialists of aerospace companies "Delft Dynamics", which advised them to change the voltage.
"Work on the prototype continues, but in an emergency it is already possible to safely lift into the air and land. We want to make the device as functional, so the firemen could use it in all conditions, even when power outages and inaccessible places" - shared student programs Aeronautical Engineering.