Festival of writers of detective fiction in conjunction with UEA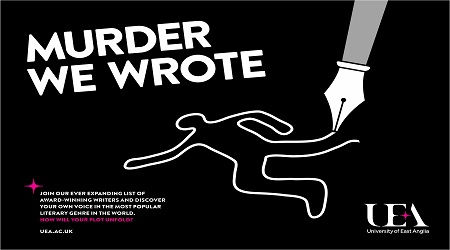 In Norwich, the main city of the County of Norfolk in Eastern England, the third time was a festival of writers of detective fiction. In 2012, UNESCO awarded Norwich the title of "literary city"in the world there are only seven cities with a similar title.
The first two festivals were organized by the University of East Anglia, located in Norwich, and the city literary Center. And now to the organizers and joined the famous British publishing house Dead Good Books, specializing in detective and crime genres.
In past festivals were attended by such famous creators of the international best-sellers, Ann Cleeves, Sophie Hannah and Lee Child. This time among the celebrities were Ian Rankin and Peter James.
The festival takes place in Dragon Hall is a modern and comfortable building Centre Norwich literature and lasts for 4 days. The program includes film screenings, master classes with the participation of eminent writers of the detective genre and the traditional "bloody brunch", which served a cocktail "bloody Mary" and assorted themed dishes.
The University of East Anglia (UEA) is known for its literary traditions. The faculty of literature, drama and creative writing (School of Literature, Drama and Creative writing) is an internationally recognized school that prepared many famous writers.
In 1970, the faculty has created the UK's first masters program in Creative Writing (literary work), the founders of which were famous story tellers Malcolm Bradbury and Angus Wilson. Since 1995, Creative Writing became available to undergraduate students.
In 2011, the program Creative writing University of East Anglia was awarded the Royal prize Queens Anniversary Prize awarded in the field of higher education. This is the most prestigious award in the UK, showing the exceptional merit of an educational institution in preparing students according to the highest international standards. Ask a question about the program.
Among the graduates of the program MA Creative writing UEA University has three Booker prize: Kazuo Ishiguro (1989), Ian McEwan (1998) and Anne Enright (2007).
>> Read about the University UEA and to ask the University