Student life
St Andrews is home to over 140 student societies which cover a wide range of interests. All matriculated students are also members of the Union Debating Society, a student debating society that holds weekly public debates. It also often hosts notable speakers, and participates in competitive debating in both national and international competitions. Founded in 1794, it claims to be the oldest continuously-run student debating society in the world.
There is a strong tradition of student media at St Andrews. Several regular papers and pamphlets are published by students for students.
Accommodation
St Andrews sits between award winning beaches and internationally renowned golf courses ensuring the town centre remains vibrant and compact. The residences are located throughout the town so that everything is within walking distance and students feel very much at the heart of the community. Accommodation is mostly in university halls. Facilities are all state of the art and are very diverse in appeal - from sport to cultural and musical centres.
Photos
Free consultation
Get free 15 min consultation about this University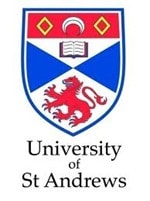 University of St Andrews
Admissions and Application Centre
St Katharine's West
The Scores
KY16 9AX
United Kingdom
United Kingdom
View Location
Telephone:
+44 (0)1334 462150
Website